MARTINSBURG — In every sense of the words, the Bob Baronner Apple Trample 5K, part of the 40th annual Mountain State Apple Harvest Festival, was a family affair on Saturday.
With runners of all ages participating and family members cheering along the route, the event is always a hit with local runners and non-runners.
But during Saturday's edition of the race, Jack and Corrine Baronner made it even more special. Jack, Bob Baroner's son, won overall, crossing the finish line in around 17 minutes, while Corrine, Jack's wife, crossed about a minute later as the top female finisher, third overall.
"We just had some fun today," Corrine said.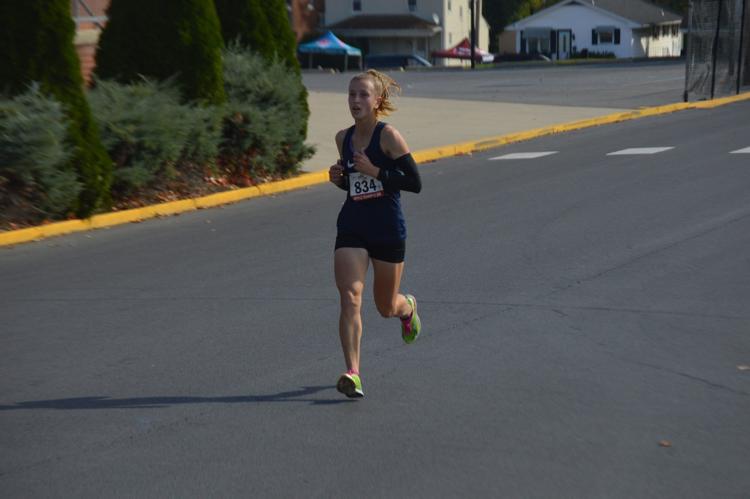 The pair has won the event before, but this year, essentially marked their first year back after the birth of their daughter. The couple also finished first overall and first female in 2017.
"We were kind of out of it last year because of the little one. To come back is pretty special," Jack said. "I just went out to see what I could do. I've been cycling more. I still want to have fun, so I'm going to come out regardless of my condition."
Jack and Corrine's daughter waited patiently at the finish line with her grandmother as the couple took to the familiar road course.
"It's really fun, especially because this season has been pretty chaotic with coaching as well. To come back and to be able to race, this was awesome. My mother-in-law, Annie, had our daughter, so we got to just lineup and not worry about the stroller or anything and have some fun," Corrine said. "It's fun to know we're still young and can come back to it ourselves."
Running has always forged a strong bond between the couple, and they've worked to find ways to continue that while being parents.
"We don't get to run as much together as we did before we had the little one. To actually get to race together was nice because we don't get that time out," Jack said. "It takes a lot more planning around our endurance activities."
Not only does parenthood keep the Baronners from finding time to run together but Corrine is also the head cross country coach at Jefferson, and the Cougars are nearing the end of a strong season. The Apple Trample provided an opportunity to Corrine to run alongside of some of her athletes who also participated in the race.
"We're going into championship season with the cross country team, so right now, it's just a little bit of trying to figure out the moving parts and pieces. Trying to get our own running and cycling and aerobic work in is harder in season but much more rewarding," Corrine said.